Design & Build Beautiful Yards and Landscaping
About Us
Meet Carmen And Luis Uribe Of A Greener Tomorrow In Culver City
The story of Carmen and Luis goes all the way back to the 1970's. Both of them were born into gardening families in the same vicinity, but they didn't meet until 1994. Carmen accompanied her father on a supply run at a nursery which happened to belong to Luis's brother, and that's the day where it all started.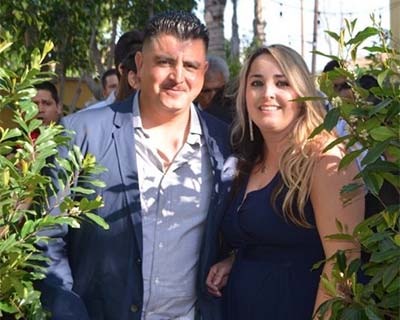 One thing led to another, and it wasn't long before Carmen and Luis married young. They were both doing gardening work at the time, with Luis working alongside his dad in a gardening route they had founded, while Carmen worked in the Albertson's floral department. Eventually, when Luis's father retired, they decided it would be best for Carmen to help with the gardening route, called Green Image Gardens.
Things went well for a time, but in 2006, they decided to reinvent the company from the ground up, taking it to the next level and going professional. That's when A Greener Tomorrow, Inc. was born. Luis became a professional c27 licensed landscaper and Carmen took a similar path, becoming a professional landscape designer by 2012.
At this point, Carmen and Luis represent over 25 years of combined experience, and they love what they do. A Greener Tomorrow has worked with A-list celebrities, multiple franchises, and countless schools. It is Carmen and Luis's goal to beautify the community as much as they can, and in that pursuit, A Greener Tomorrow has been a tremendous success. This is a company that's grounded by a hard work ethic, extensive industry knowledge, and a constant commitment to professionalism.
Overcoming Challenges
As any small business knows, it's not always a smooth road, and this is certainly true for A Greener Tomorrow. Being based in the same location since 1994, we are sometimes limited by regional factors, particularly weather, such as the seemingly everlasting drought that has been pervasive in Southern California for a near decade.
With drought weather being so persistent, many pop-up companies appeared spreading gravel practically for free as many residents rushed to remove their lawns in an attempt to save water. But because our team is quick, savvy, and informed with the latest industry trends and information, we were able to get ahead of these problems by presenting affordable solutions to our clients. Many people ended up being scammed by these pop-up companies, and that's why we strive to be a beacon of true customer service and business integrity.
Sometimes, playing a game the honest way presents more challenges, but it wouldn't be A Greener Tomorrow if we didn't do just that.
The Greener Tomorrow Advantage – What Sets Us Apart
Because we are a relatively small landscaping company, the work we do is cohesive, focused, and designed around a singular and powerful vision. Our work is functional and environmentally responsible.
We may be a relatively small landscaping company, but that doesn't stop us from implementing new designs that are functional and environmentally responsible. We are a full design company where nothing is outsourced — the entire design is created from scratch and brought to life by us. We stand by our workmanship 100%, because we know if we don't do our job right, we're not going to thrive.
Another thing that sets us apart from many companies is that we act as both the designer and contractor, which leaves no room for miscommunication or business conflicts. As an added bonus, our designs are 100% free once the job is booked. This is hard to beat, because a design takes up to 25 hours and typically runs a couple thousand dollars. But with A Greener Tomorrow, that's a thing of the past!
If you buy a design and book the job, you won't be charged a single penny for it. Our designs are inexpensive and typically run from $250 to $500 for a sizable yard. Our goal is to earn the trust of our clients, which means doing things efficiently and right the first time, every time.
What Success Means To Us
For our team at A Greener Tomorrow, success is being able to enjoy life and provide for your loved ones. It means a better quality of life, and feeling of being able to see how far you've come when you look back on things. Our priority is to leave our descendants with a legacy that they can cherish and be proud of.
We Provide Services to the Following Cities, Towns and Surrounding Regions of CA: